latest news

news details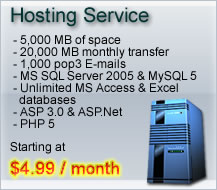 APP Solutions is pleased to announce that we have installed a new dedicated server to our hosting service. Giving better quality of service, both standard and custom. Better service in the mail system and databases.

Customers who manage their own domains, must change their Names Servers to:

ns1.appsolutionshosting.com
ns2.appsolutionshosting.com

The old server will be online until the end of October of 2008. Please make the changes as soon as possible to avoid any interruption in your hosting service.

Any questions, comments or concerns can always contact us to support@appsolutions.net. For other forms of contact visit the "Contact" section.
Sincerely,
APP Solutions Team.