latest news

news details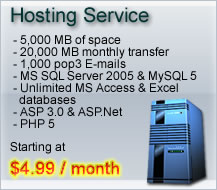 The software of POS (Point of sale) RTSS 2.0 is available to be used as BETA. You can download this beta doing Click here.
The requirements are:
- Constantly Internet Service (Could be dial up) (The software take all the data from our servers, without this connection you can't use the software.)
- Windows 2000 / XP / Vista, Framework .net 2.0 with SP1 or higher.
- Processor 350 MHz or higher, 64 MB Ram or higher, 5 MB of hard drive space.
If you have any question please do not hesitate in contact us.